Langogne France 2011
This is a story about a trip to Langogne the summer 2011.
The French organisation UCPA offers different vacation opportunities all over the world. I joined a trip to Langogne where the theme was horse riding. This can be done as day trips or as a randonee. I choose the later.
I decided to do my own journey from Sweden. After landing in Marseilles I took a train that went directly to Langogne in the southern part of France. Langogne lies in the department of Lozere which is hilly.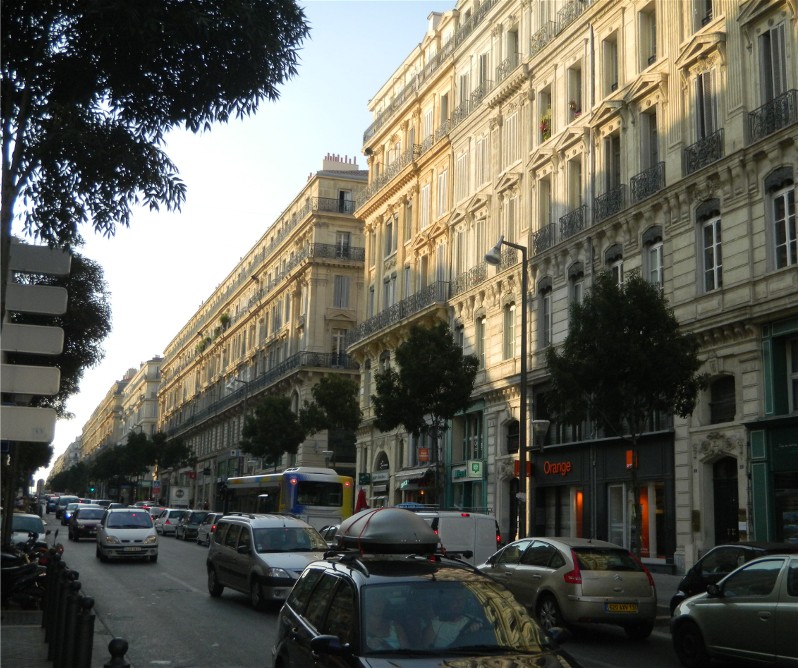 Big street in Marseilles close to the waterfront.
Marseilles is the second biggest town in France. It was founded by people from Greece (Jonia) about 600 BC It was later incorporated in the Roman empire and was a central place for this part of the empire. It was and still is an important harbour. Today it is a busy city with people from all over the world. Itís famous for being the town in France with the highest criminality why you should watch your wallet.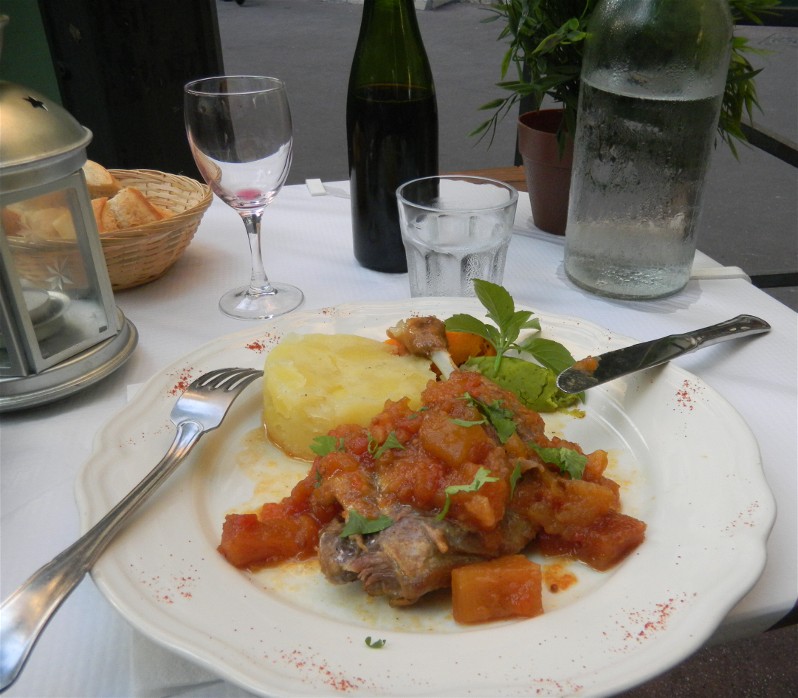 Canard confit.
With this fact in mind I think things turned out quite well. After a small visit along the waterfront with all itís sailing vessels I found a decent restaurant some kilometre up in town. My hotel was a very cheep one so I decided to put the money on some nice food. Everywhere in Marseilles you will find canard confit so why not try one. The one I tested was with exotic fruits.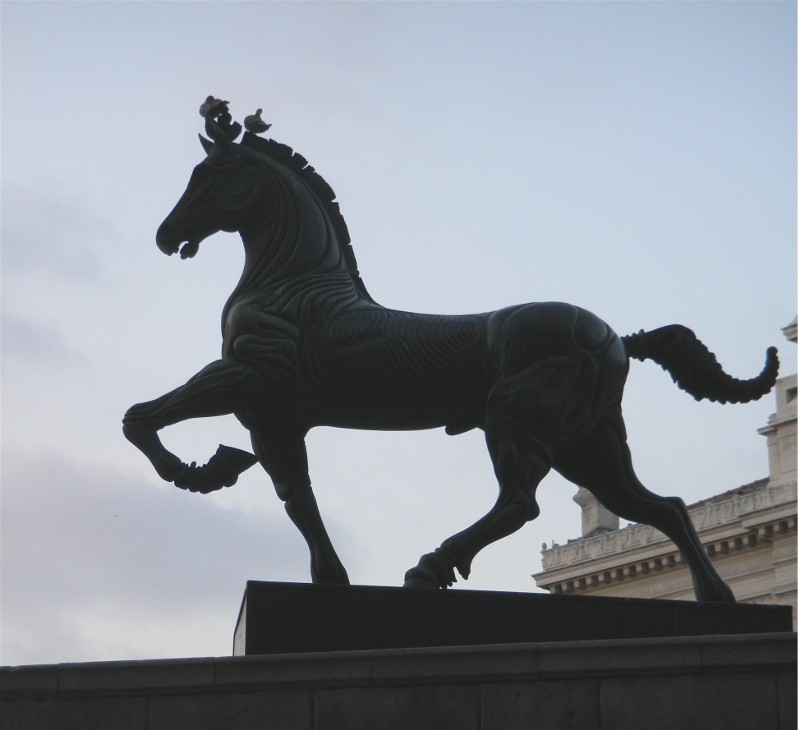 This horse can be found close to something called foundation regards de Provence. This place also serve as an area with multiple boule planes.
The next day I took the train. (If you go there, take a look at the extravagant stairs from south up to the station).
In Langogne the owner of the centre picked us up in a Jeep. I was lucky because I had left the telephone number to the centre at home and actually didnít know how to come in contact with them. Anyway there were 5 more girls on the train that were going so they had already made the call.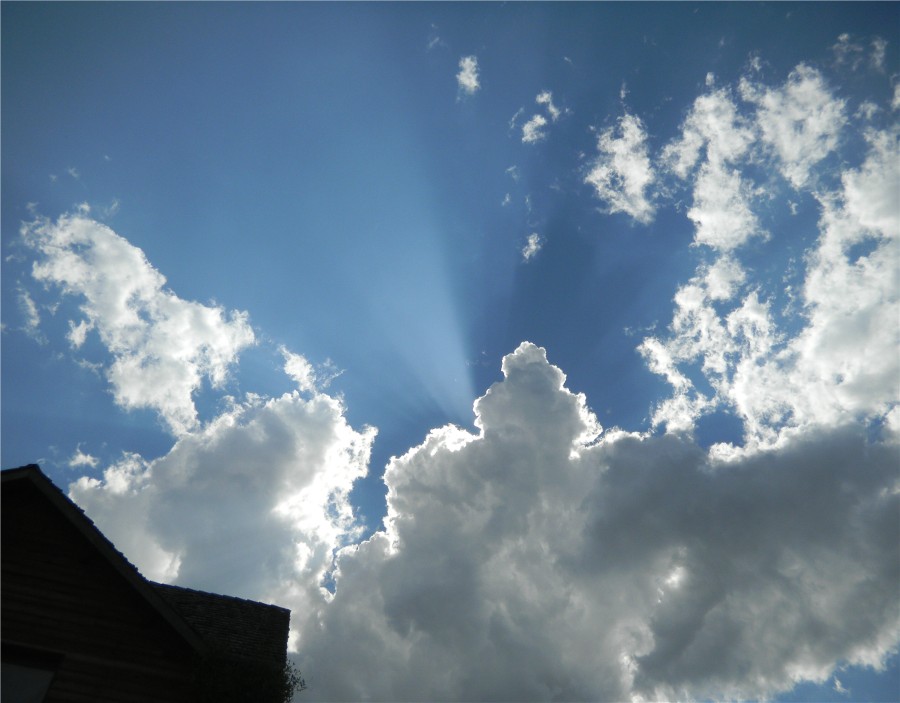 This was the evening scene when arrived to the centre "Le Relais de Palhe`heres" close to Langogne.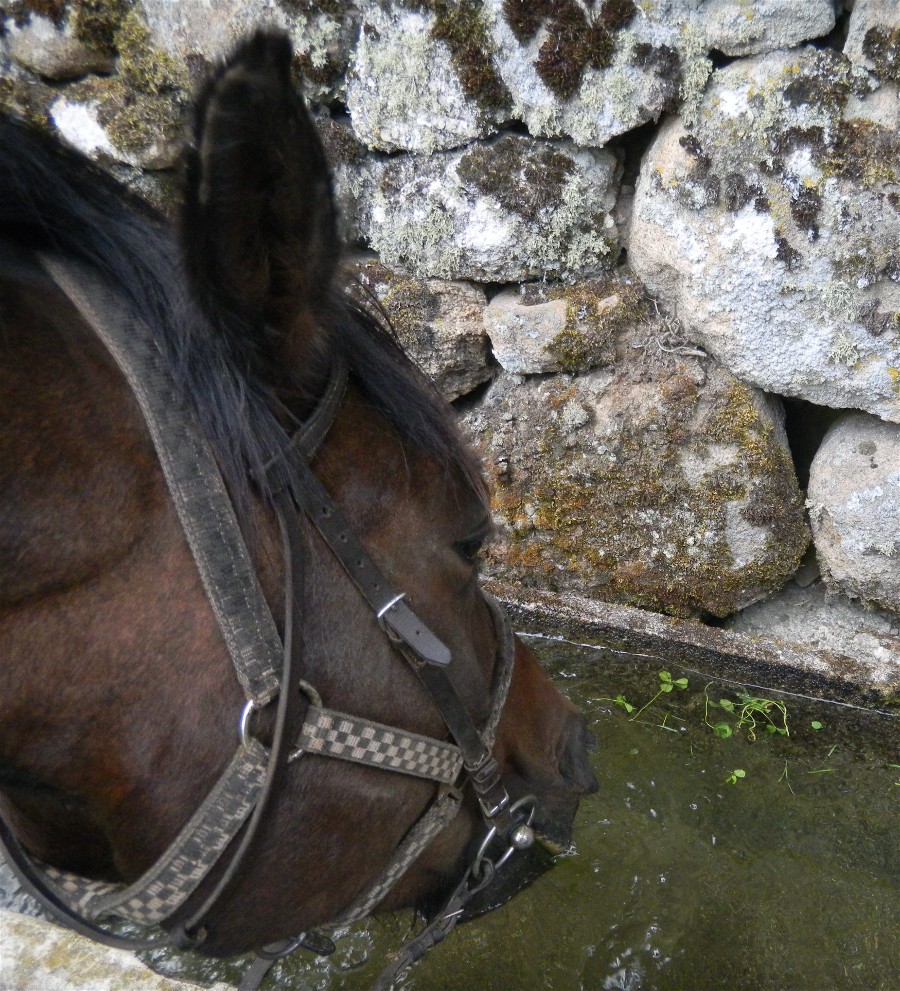 Muriet.
After arriving and some wash up we met with the leader. There was a small interview where we would describe our skills and also point out what type of horse we wanted. Then I would have the horse Muriet. This means darkish in English and actually we have the same word in Sweden; "murrig!".
My wish was an energetic horse. I think that come pretty close although Muriet had a calm mind. And he was certainly more of a trotter than a galloper.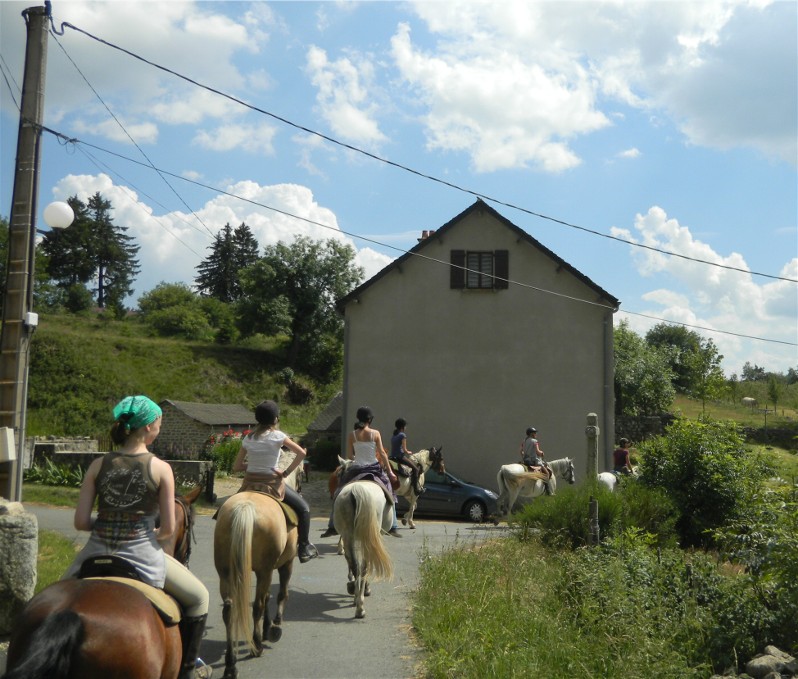 Small village. Our path was through small villages and great distances was also covered through woods.
On the first day we pretty soon passed a beautiful castle. It is shown in the film later down. After some woodlands and open areas we arrived in a small place with a wonderful restaurant and guesthouse. The chef showed to be real skilled. After arriving we took care of our horses giving them water and caressing them. After that they were let out in a fenced area.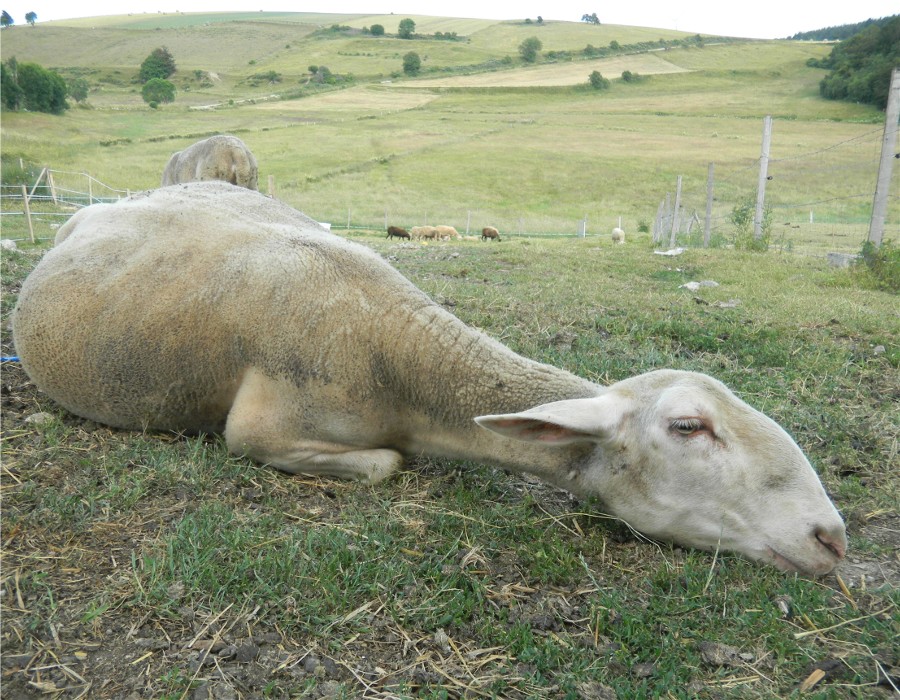 Hello, donít you see why Iím laying here? Iím just trying to make a perfect copy of the landscape silhouette, donít you see?
On the farm/guesthouse there was also other animals like cheep, hens and a dog.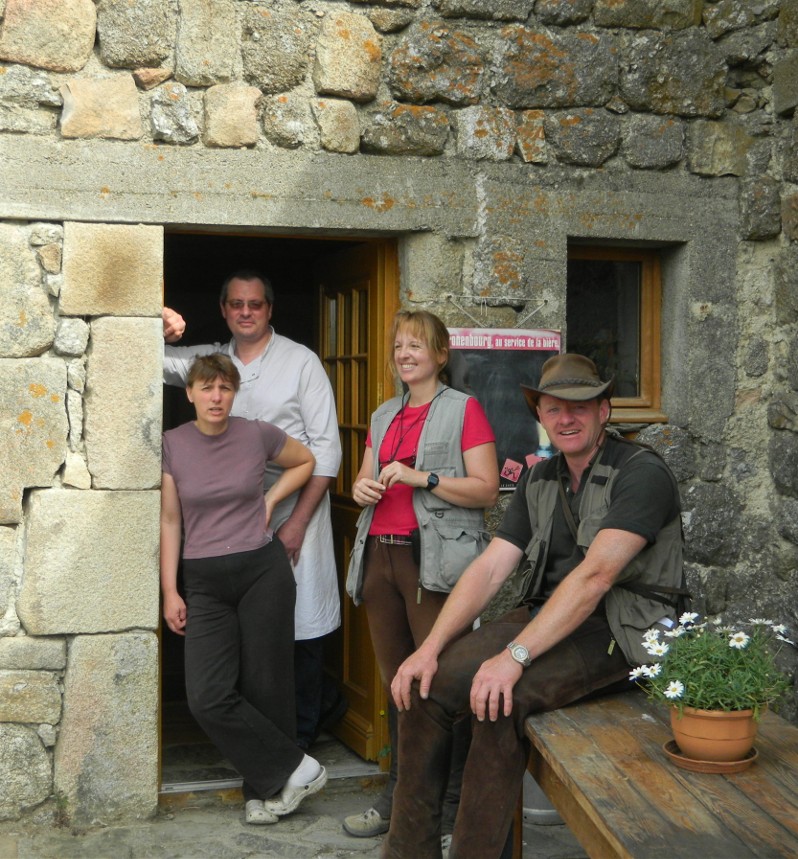 Here is the chef. He cooked for us all day and then his wife served. After we had eaten and left the table about ten o clock he sat down and had some food himself. The food was just extraordinary! This evening we had no wine to be alert for tomorrow but the food itself was so fine that water tasted as good for the dinner. Eric is the man in hat to the right.
The next day Eric pointed out that there would come a storm this day. I asked if it was a thunderstorm and he replied yes. We started a long journey through woods. The trees were most pine and the landscape and nature actually looked very Swedish. This has do have to do with the altitude rising slowly and being some 1200-1400 meters. Also the berries found was typically the same you would find in a Swedish wood. I think the only discrepancy was that you here could find wild peas which you do not in Sweden.
Eventually we had climbed to a top and the ultimate altitude was 1557m. Here was a table with landmarks and a TV-tower. The weather was windy but I could see no thunderstorm so I thought we may had misunderstood each other.
Most of the gang as seen from the table. Klick on picture for bigger version.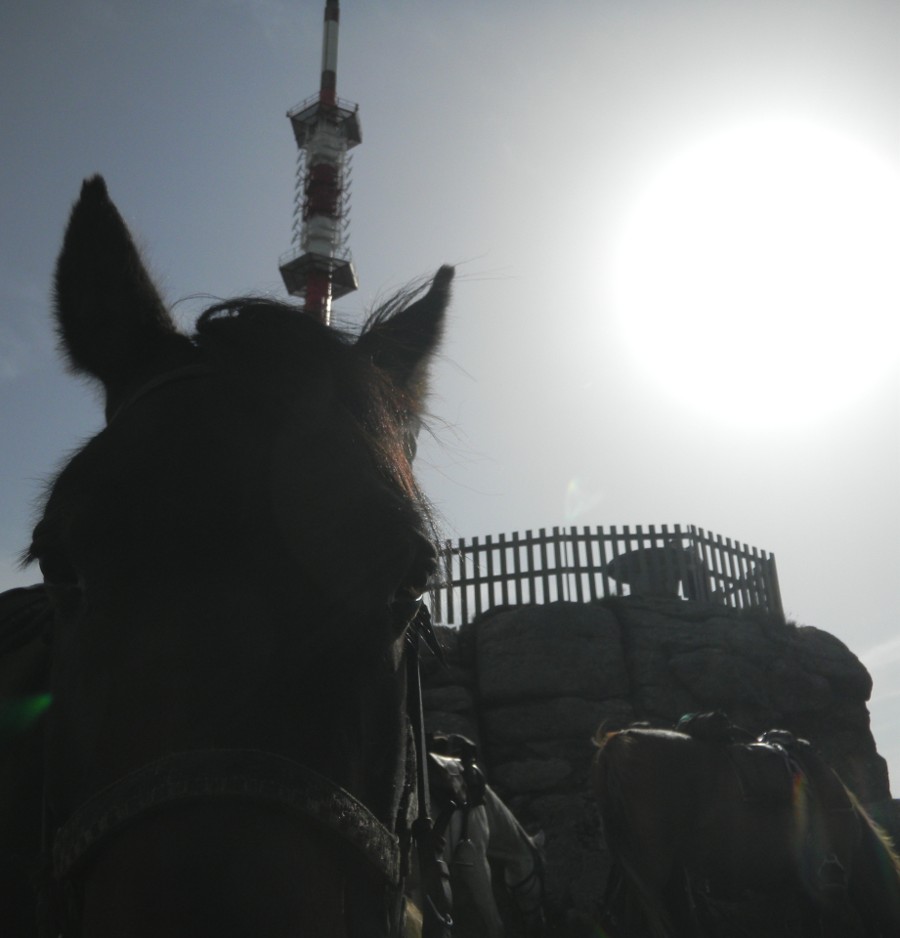 Muriet and the sun at some 1554 m altitude. TV tower in background.
After a not to long descend down in to the woods we fund our camp.
The stable had bought a used truck from the formula one circus and added beds so that we could sleep therein. This was a great surprise to me as I had thought there would be tents. The horses were very happy to be at the goal. There was a small river so that we could wash ourselves. After taking care of the horses they were let out in a big fenced area. Guess if they were happy. I think they hadnít stopped at this place before because they were running around and checking the area out for a while.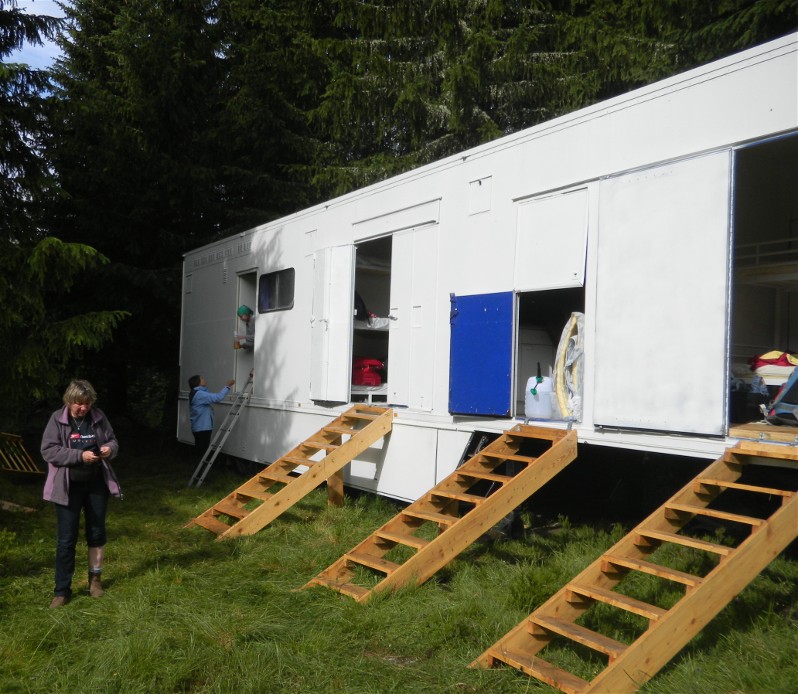 The formula one truck.
Now Eric started preparing the dinner. I think he made a great job actually cooking. He made this in a rolling home that stood close to our quarters. Now there started to come some rain in the air. While serving the dinner the sky was darkening. It was heavily dark when we went to bed and short after that a tremendous thunderstorm broke out. With hammering rain and flashing lightning. I was suddenly wakened up (I was not actually asleep) by a voice demanding me to open the door. Open it up I cried! Its not locked! In came a girl with wet hair and clothes. The rainís coming in! Eric was running around with a flash light in his mouth and climbing lathers to the roof. Trying to find the leak. Three of the girls beds had got wet.
Eric made an heroes work and some hour later we could all go to sleep. I was a little concerned about the horses because the lightning was so heavy.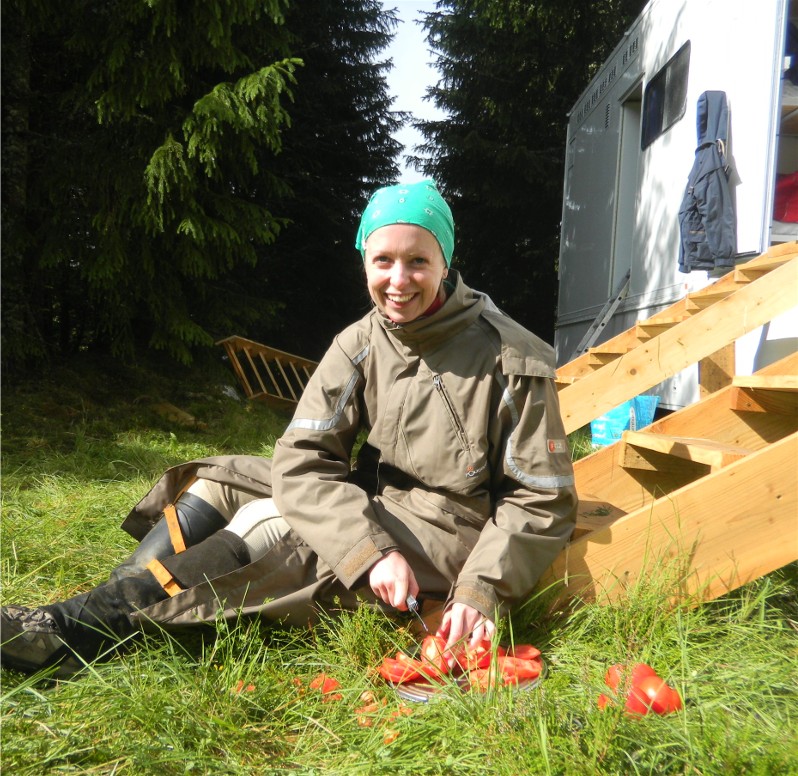 The next morning there was actually a little sun. And Valerie also looking like the sun!
All the horses were alive and things didnít seem to bad after all. The sun started to shine and I was getting warm.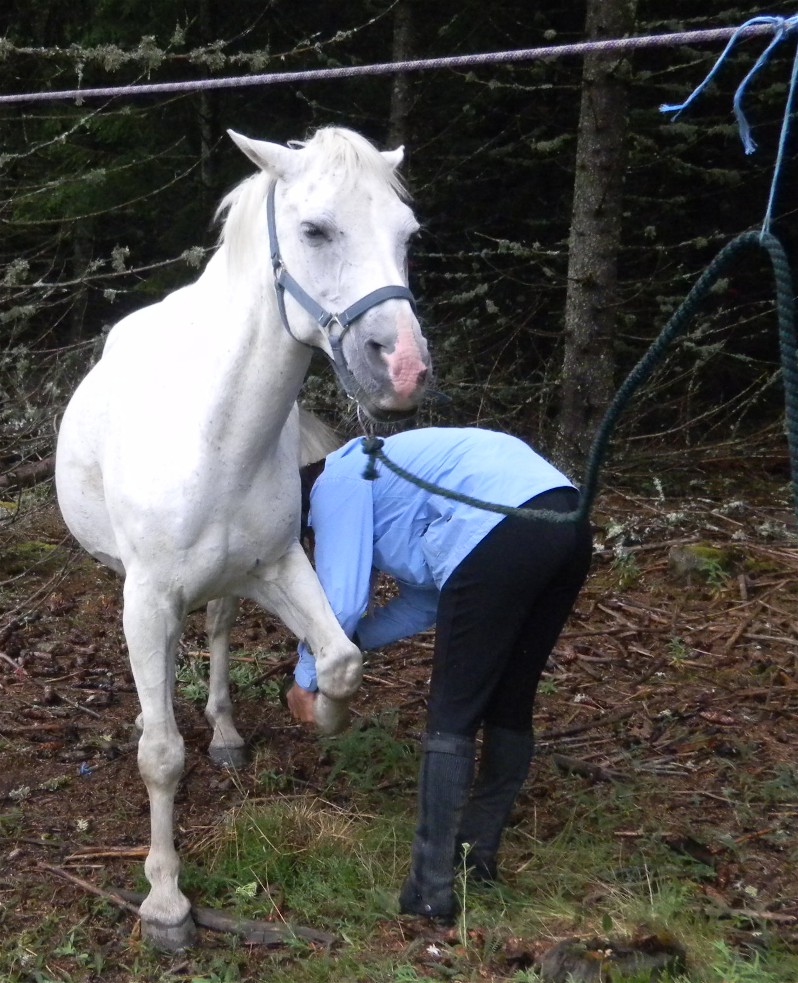 Gee, itís nice to be scratched under the feet!
We collected the horses and started to prepare them for work. About when we sat up it started to rain again!
The sky was all covered up with clouds so there was no hope for more sun. I thought about putting my extra jacket on but decided not. Better to have one dry later on I thought. To use the camera was not to think of. I simply have no pictures from the morning until about two a lock when it stopped to rain. To gather some energy Eric decided to stop in a village and ask a farmer if we could let the horses somewhere and get a shed. The wind was real strong now. I was warming my hands on the horses neck just in front of the saddle.
In a small village we stopped. Eric and the farmer set up a string the type used for electrical fencing. Although they put no power to it the horses are afraid of the type so they didnít run away. We gathered together under a small roof where farming equipment were stored. The sun was showing so I put off my jacket and put on a rooftop. With the strong wind it dried up in half an hour.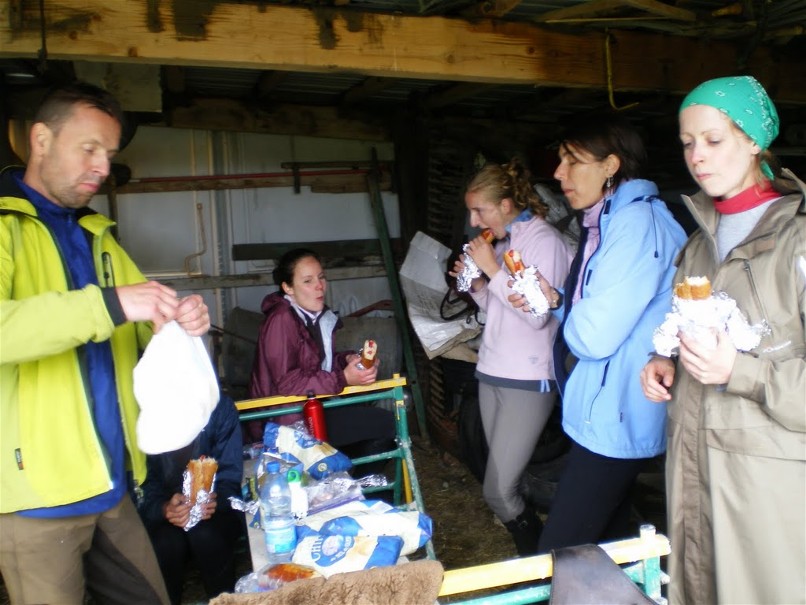 We ate our food packages and they were tasting certainly wonderful. The farmer with wife and three children, and his grand parents showed up with coffee. So soon we had a real fiesta. Picture by Celine.
We collected the horses but they were not at all into more walking. Now the weather was getting better and better and the landscape went more and more friendly. After some two hours we were approaching our night quarter. I say it was less than one kilometre left. Then Mariannes horse slip on the asphalt in a steep slope and fell on its front knees. She (the horse) scratches its knees down to the ligament. So there was blood. Eric acted fast finding the nurse equipment. He was cleaning a little and put on some compress. The horse was led down to the night quarter. Without as much as a cry. The horse did not show a sign of pain. They never do (or seldom). Not to attract predators.
Here the wounds were cared a little more and sprayed with aluminium coating. To protect them from insects. After that the horse was transported to the home stable by a car transport.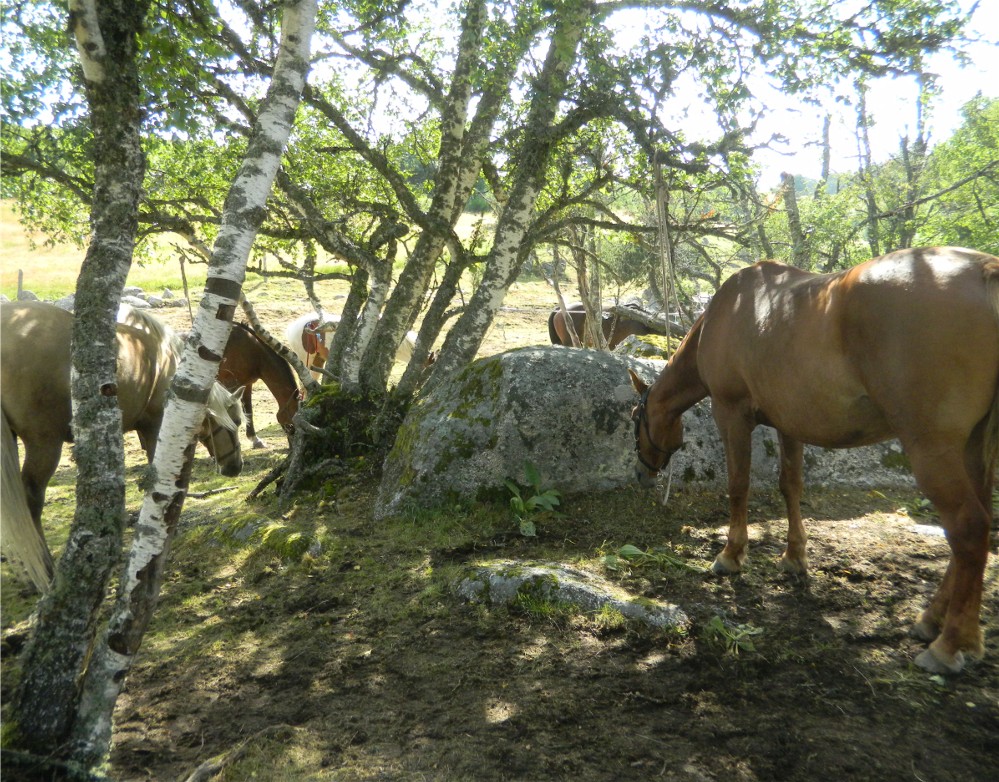 Beautiful resting place.
We human people did also leave and left the other horses to themselves now let free in the area. We were also headed back to the base for a night in a dry home and a warm dinner - instead of using the tents at the resting place. The next day we were transported back.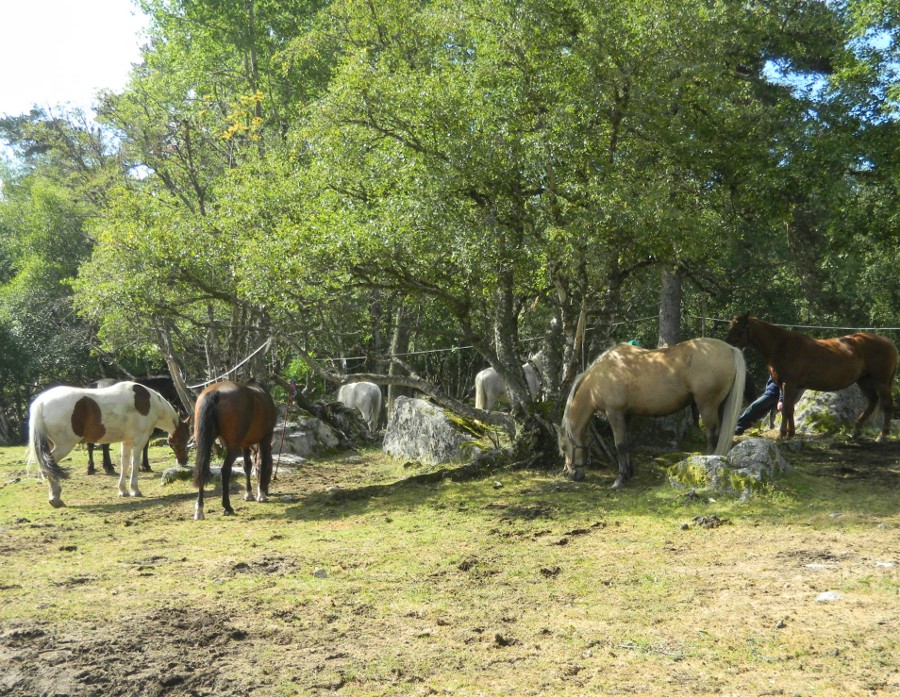 Harmony.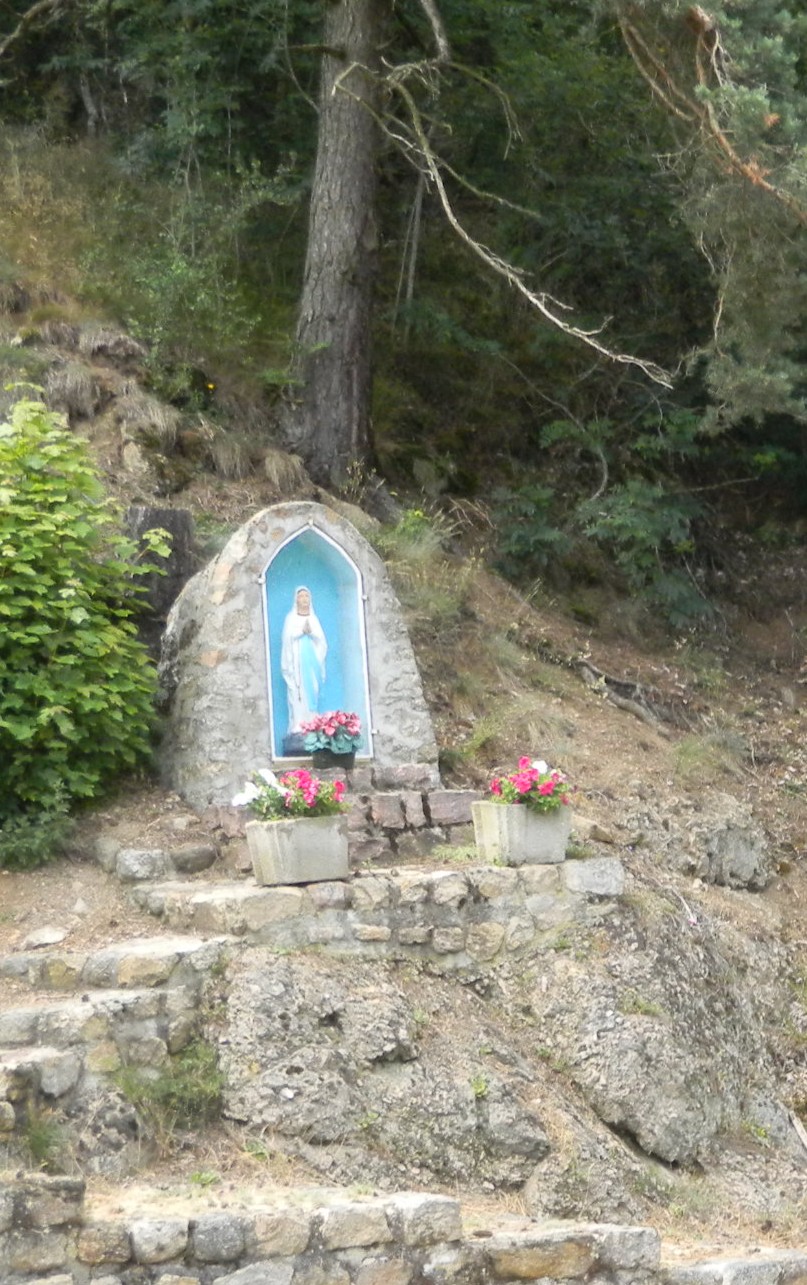 A Madonna.
So then we took off again. Most of the girls had put their raincoats on but this day it showed out to be unnecessary.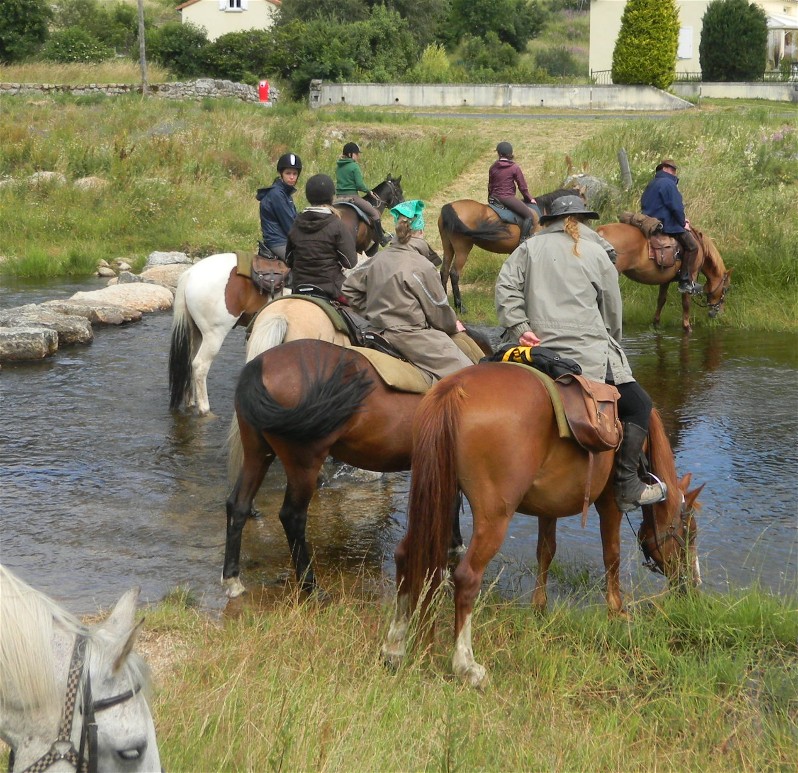 Many of the pictures show drinking horses. But rivers and fountains are natural stops. The horses often need a drink and rivers are natural breaking points in the landscape. Nice thing you donít need to get wet feet.
So now here is one river more: The motor cyclists being polite to turn their motors off. 2 stroke cross motors are pretty noisy and can scare anyone.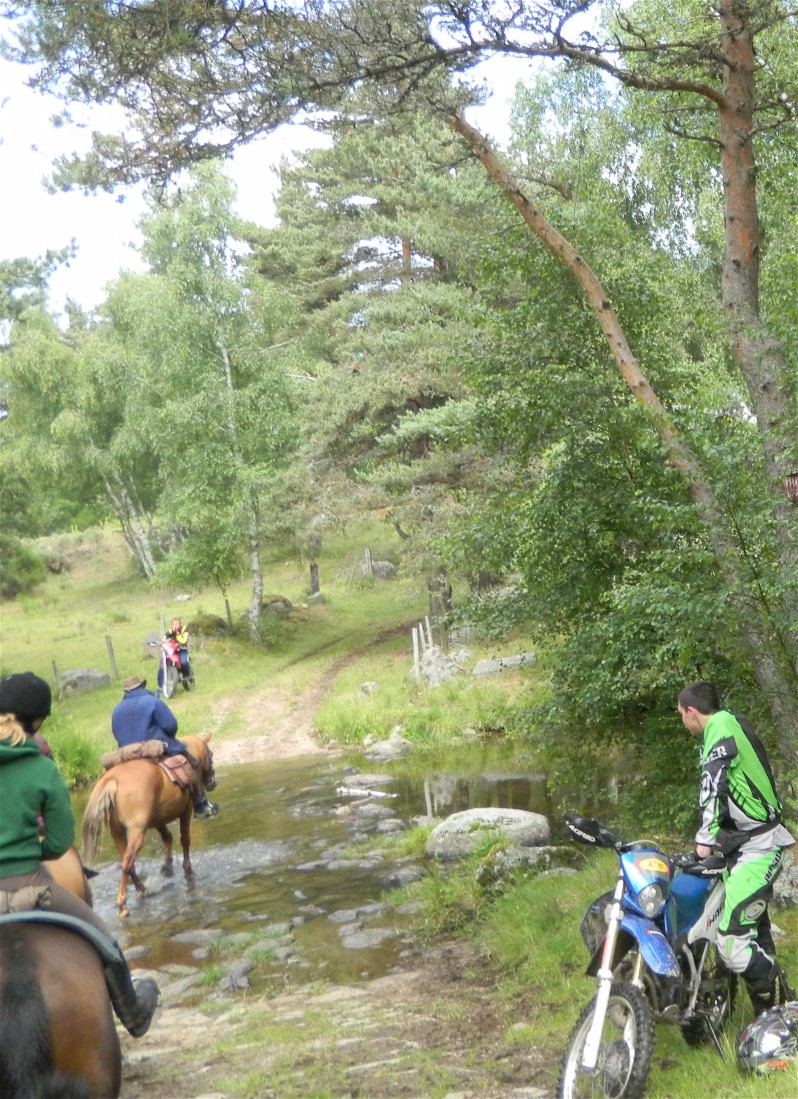 There is horsepower and horsepower.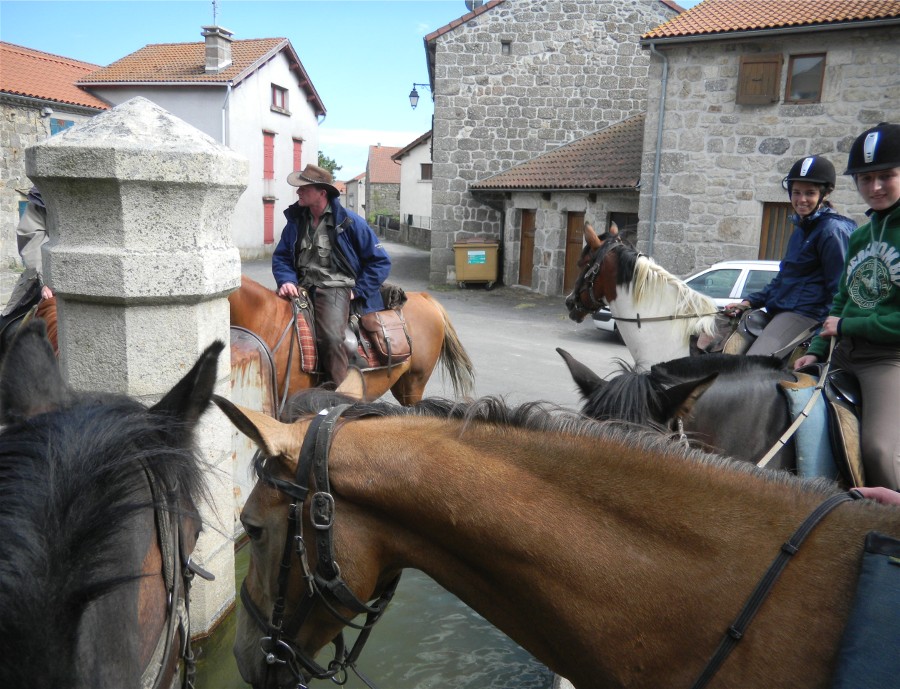 The fountains often lie at some central point of the village. This time close to the church. Interesting enough the brown horse next to mine and the one after that started to play with the water after a while blowing water in each others ear. Very funny! Sorry I had put my camera down then!
We were heading back home for another night at the centre. This night it was planned though!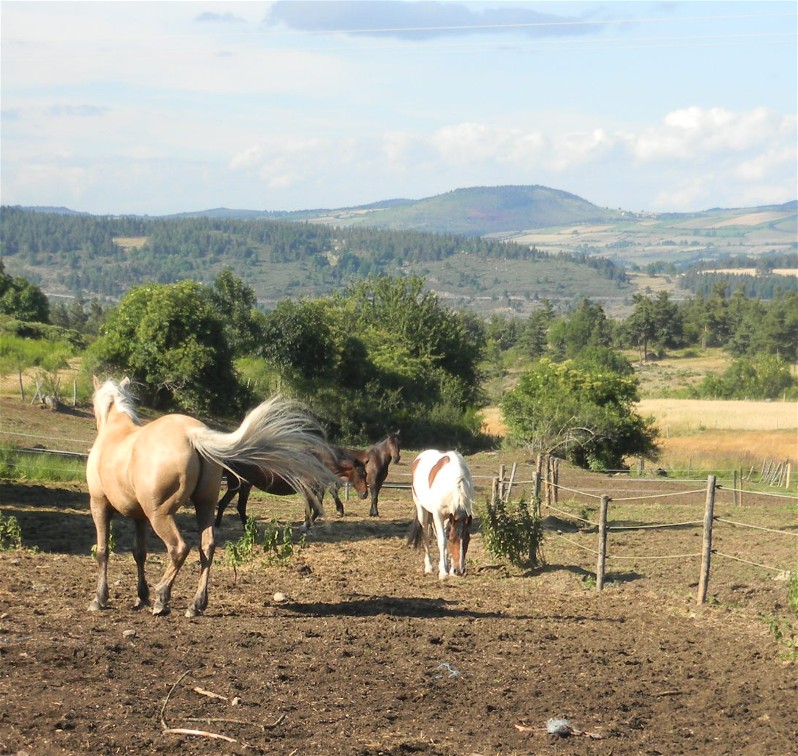 One night of rest at home. Muriet the horse in the back. Whatís he up to now??
Here the hotel part of the centre can be seen behind the trees: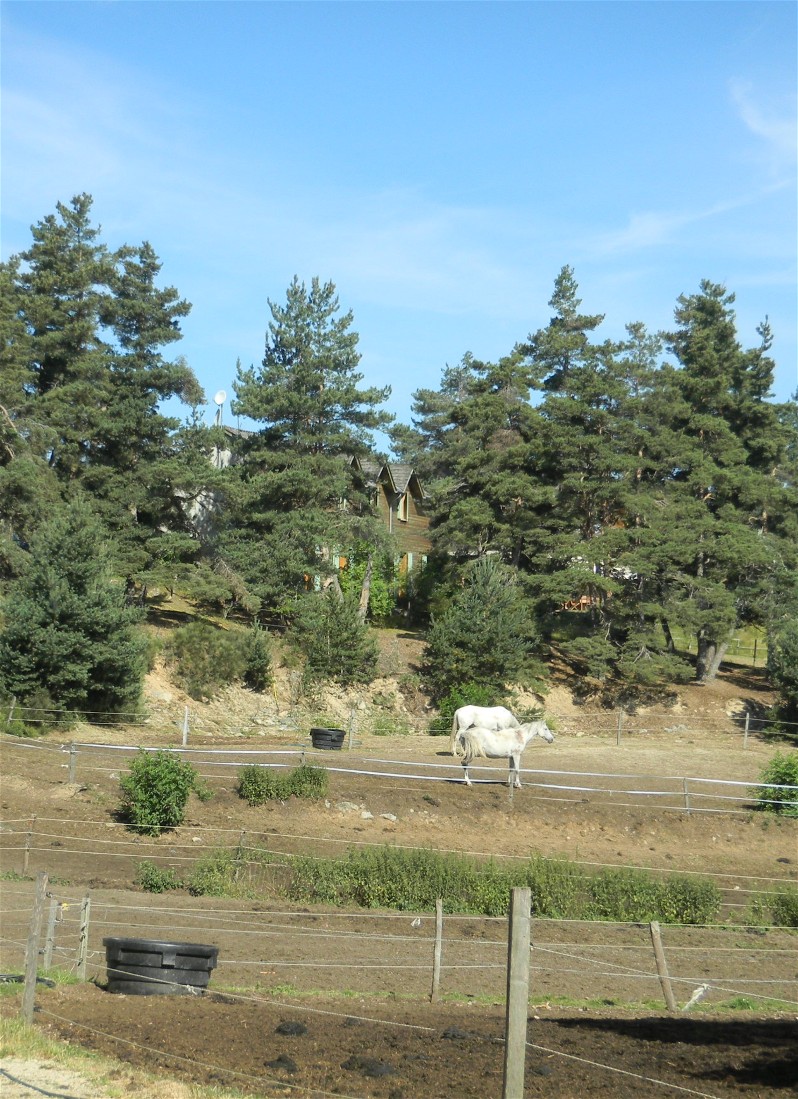 Part of the centre "Le Relais de Palhe`heres".
The last day we would go down to the big lake Naussac which lies between Langogne and the centre.
We made it as a little longer excursion. Eric promised me that the water would be ice cold so if we wanted to bath it was on our own risk.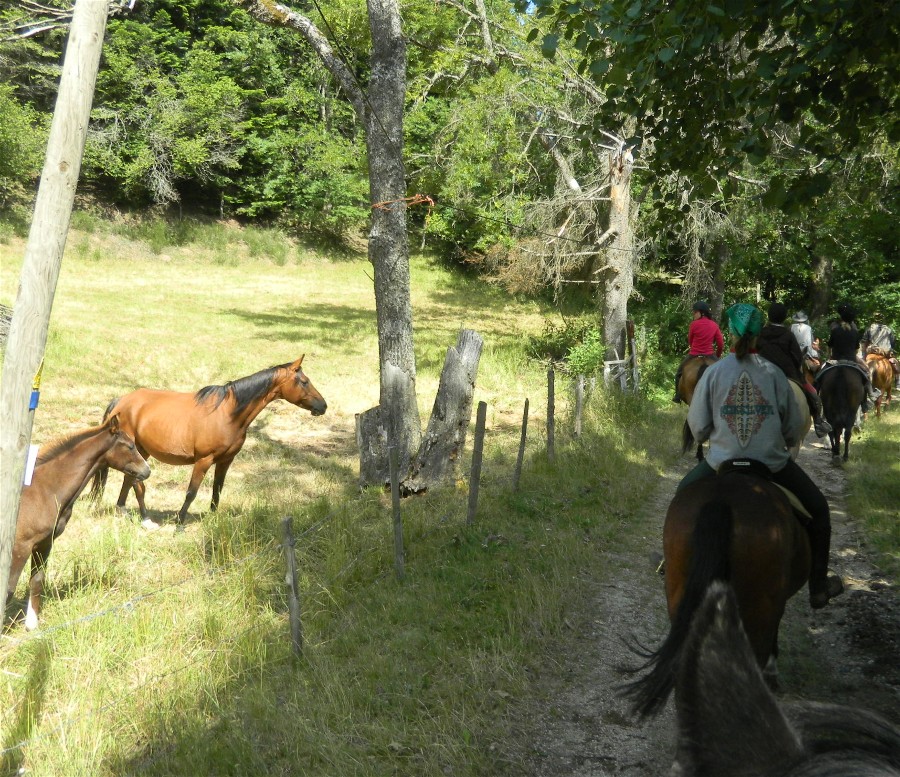 Mother and child. Pretty often we pass different fenced animals. They always show great interest. Of course every happening is welcome when not to many things come along.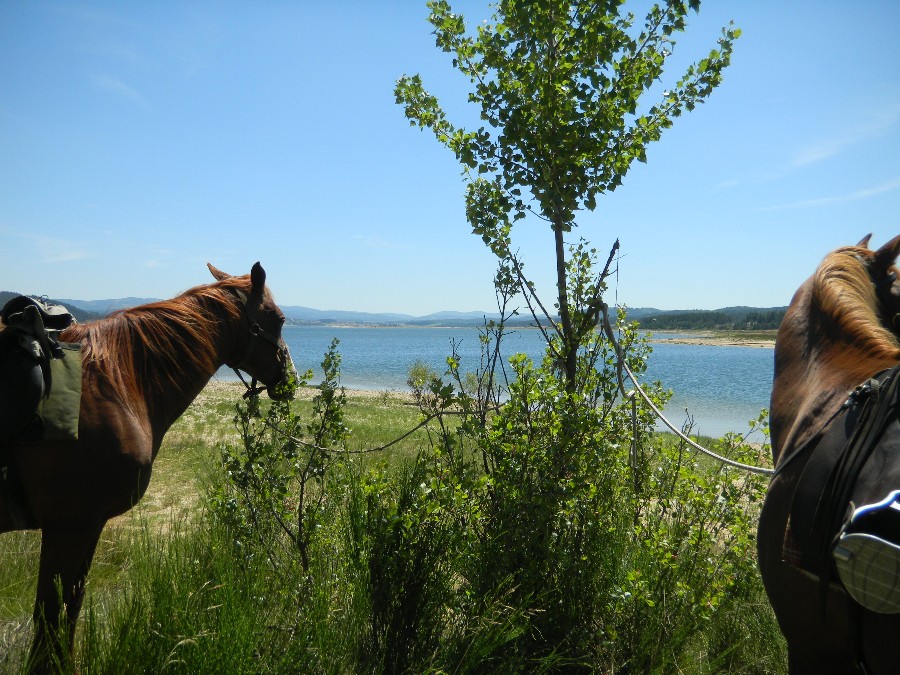 Looking out over the lake.
At the lake we had our usual lunch out of a food package consisting of a baguette stuffed with different things and some fruit and maybe a biscuit. The water was not so badly cold. But with no support I decided not to bath.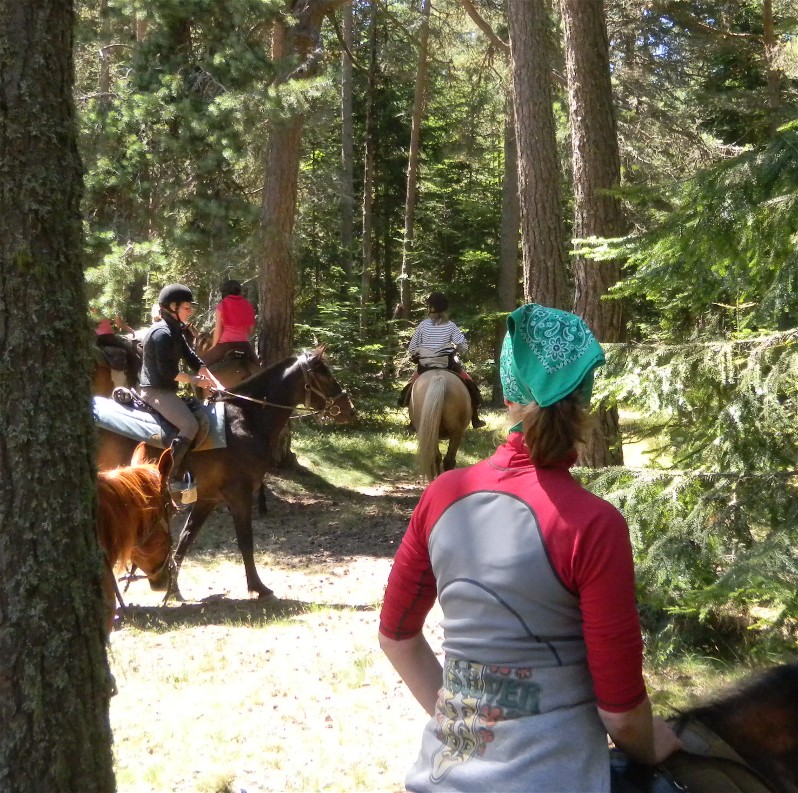 Wood close to the lake.
So now there was only getting back left of this five day trip. At the centre we would give the horses some extra care and then wash and put new grease on the leather stuff; saddle and so on. We felt a little sad, the five days had went by too fast.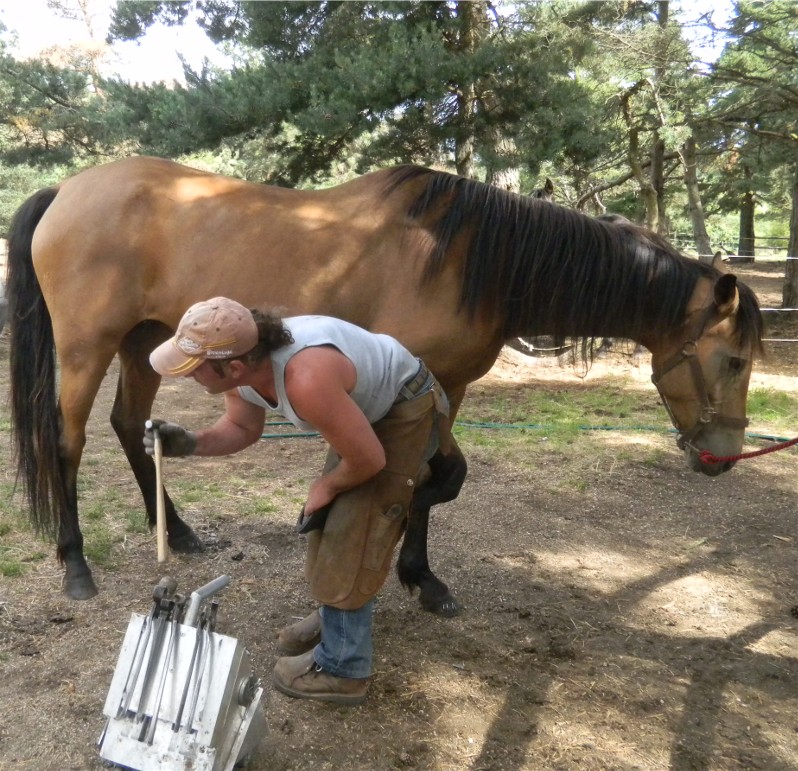 In the evening a man came so check over and put new shoes on some horses.
He had a well dedicated car.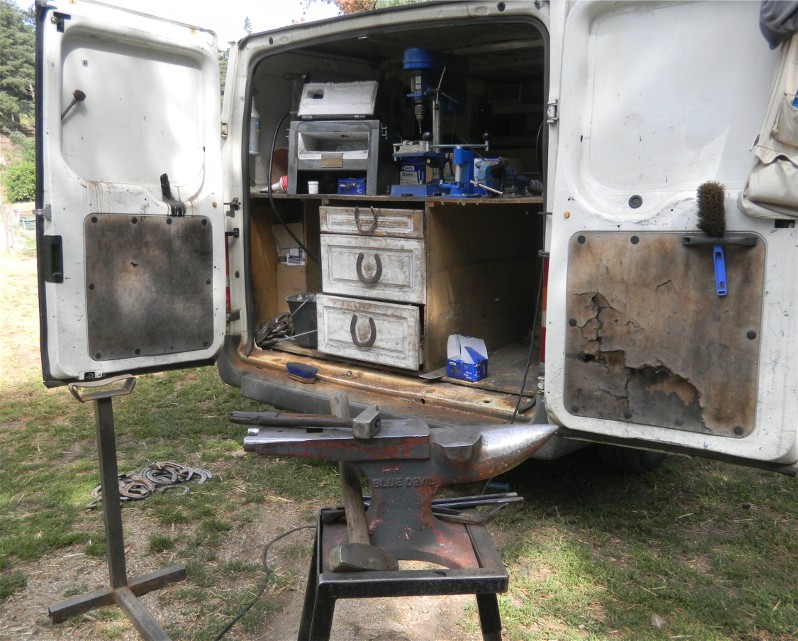 Car with anvil in front of it.
Here follows a film sequence. You may have a fast internet connection to see it.
Film sequence. Here is a film sequence from the trip.
Finish.
So here we were after five days on the horseback. To compare with last year, the trip to Corse: The horses were calmer being more of the Half Bread type. The horses on Corse were more Arabian. So there were a certain difference in temperament, the Corsican horses more competitive but also nervous. I think the horses have been in good shape at both trips. Also the nature in Corse were more harch. It was warmer and steeper.
In other words: Corse was chili pepper and Langogne layed back.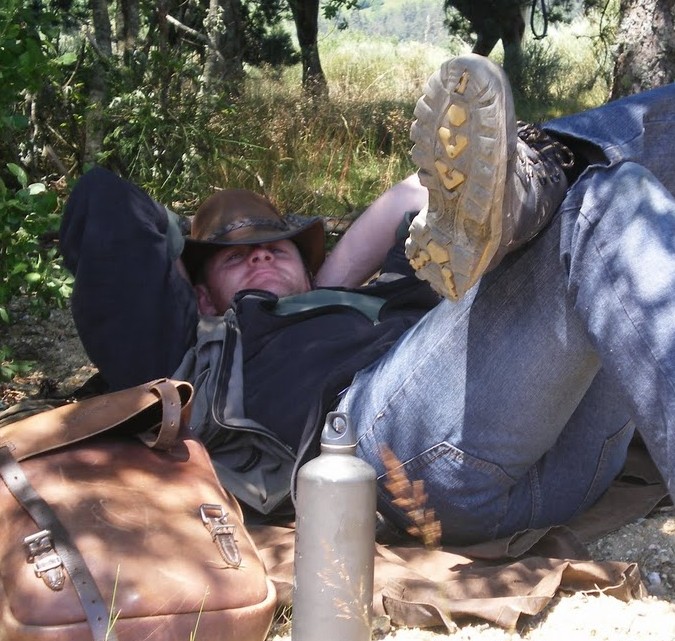 Our leader Eric. Photo by Celine.
I want to send thanks to the centre which I think was real professional. And special thanks to Eric who was the man to solve every situation without any hesitation and with good judgement. (The stormy night and the horses injury).
Below follows a story about what happened next on my trip, how I got to Nice and the Alps in the region.
Provence Alpes.
So many thanks for your reading.
Johan
(((Back to "other stuff" page)))